Diabetic Neuropathy Treatment in Arizona


Diabetic neuropathy affects as many as 50% of patients with type 1 and type 2 diabetes mellitus (DM). It is the most common complication of diabetes mellitus. Diabetic neuropathy contributes to signs and symptoms of peripheral nerve dysfunction in people with diabetes and is named as the cause of pain once other causes have been excluded.
Incidence and Prevalence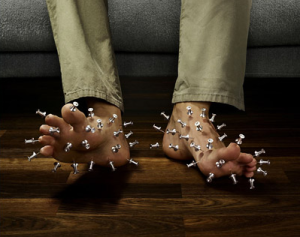 As of 2014, the World Health Organization announced that 347 million people worldwide have diabetes. There were around 1.5 million deaths due to the disease in 2012, and it affects mostly those of low- and middle-income regions. The National Institute of Health found that 13% of adults in the U.S. suffer from diabetes, and around 30% did not know they had it. In addition, 37% of people in the U.S. have prediabetes (higher than normal glucose levels). For those in the South-East region, also known as the diabetes belt, the incidence of diabetes and neuropathy is higher.
Causes and Symptoms
After years of chronic lingering hyperglycemia (elevated blood sugar), type 1 diabetes mellitus, distal polyneuropathy usually becomes symptomatic. With type 2 diabetes mellitus, symptoms may be evident only after a few years of mishandling of a glycemic diagnosis. Symptoms of diabetic neuropathy include:
Motor symptoms – Proximal, distal, and other focal weakness many times occurs along with sensory neuropathy (sensorimotor neuropathy).
Sensory – In the distal extremities, there's a showing of a stocking-and-glove distribution.
Autonomic – Neuropathy involving the gastrointestinal, cardiovascular, sweat glands, and genitourinary systems.
Stages of Diabetic Neuropathy
N0 – No neuropathy.
N1a – Signs and no symptoms of neuropathy.
N2a – Symptomatic mild diabetic polyneuropathy, motor, sensory, or autonomic symptoms, where patient is able to walk on heels.
N2b – Severe symptomatic diabetic polyneuropathy, where patient is unable to heel-walk.
N3 – Diabetic polyneuropathy causing disabling of the patient.
Diagnosis and Treatment
Laboratory testing may include:
Hemoglobin A1c
Fasting plasma glucose
Complete metabolic panel
Complete blood count
Thyroid test
Vitamin B-12/ Folate levels
C-Reactive protein
Erythrocyte sedimentation rate
Anti-SSA and SSB antibodies
Antinuclear antibody
Paraneoplastic antibodies
Rheumatoid factor
Genetic screens
Rapid plasma reagent
Hematology screen (for anemia)
Sequential multiple analysis-7
Management of diabetic neuropathy needs to start at the beginning of the diabetes mellitus diagnosis. The doctor should constantly be aware of the development of neuropathy or its presence at the time of initial diabetes diagnosis. Disability and amputation can happen due to failure of diagnosis of diabetic neuropathy.
Treat any foot ulceration and be educated on foot care. You may even be advised to see a podiatrist, especially if patients develop an infection of the foot or ulcer and/or especially gangrene. Follow-up all appointments and reinforce the habit of caring for your body, especially with your feet.
When it comes to treatment for the neuropathic pain, effective treatment may involve the following:
NSAIDS
Opiates
Neurogenic Medications (e.g. Lyrica)
TENS Units
Nutritional Treatment
Laser Therapy
Spinal Cord Stimulator Implant is an excellent last resort option. Recent studies have shown that implants can actually relieve pain and also restore some of the lost sensation. The procedure has been amazing for painful diabetic neuropathy.
Dr. Ajay Yeddu at Desert Interventional Spine Consultants is an expert in treating diabetic neuropathy with both medication management and interventional procedures. DISC offers therapies to patients from a broad area including Gilbert, Chandler, Mesa, Scottsdale, Queen Creek and Maricopa AZ too! Most insurance is accepted, call us today.
Save